VAS is the
industry-standard


for high-level data management
From Dairy Farms to Crop Farms
Your farm's data has a story to tell


VAS PULSE PLATFORM CAN TELL IT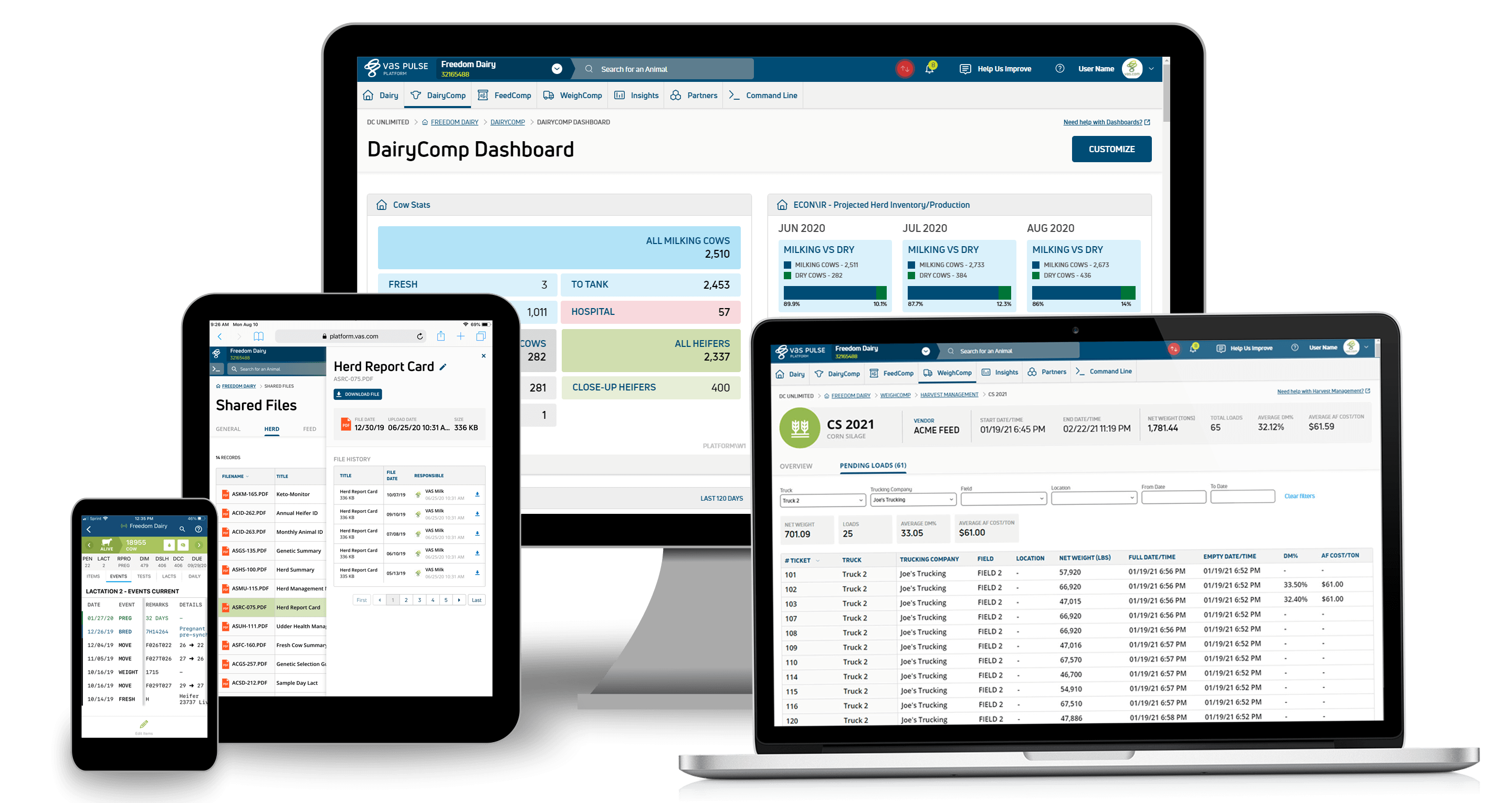 Cloud-based Anytime, anywhere, any device.
Comprehensive, end-to-end products
Maximizing herd performance starts with
DairyComp.
• Data-driven – explore herd data on micro and macro levels


• Customizable – create reports that make sense to you


• Scalable – small herd or large, there's a DairyComp for you
VAS Feed ensures your most expensive
input isn't a mystery.
•
Traceable

– gain visibility into inventory, shrink and loss

•

Accountable

– unite your entire team to work towards common goals

•

Accurate

– optimize pen feeding with always accurate counts from DairyComp
Your herd has so much to say –
get the total picture with milk testing.
•
Accredited

– certified technicians and laboratories deliver accurate results

•

Powerful Insights

– from ketosis prevalence to fatty acid insights we've got answers

•

Connected

– view all your results in VAS PULSE
Achieve superior results with agronomic
laboratory testing and consulting services
•
Customizable

– numerous reporting options available to fit your needs

•

Diverse

– from soil health testing to Nutrient Plan Writing and Precision Ag, we can help

•

Sustainable

– we're committed to supporting environmental stewardship
Integrated with over 40 world-renowned industry partners
At VAS, we connect farmers to their data through herd and feed management software solutions and agricultural laboratory analysis. We empower them to make the best management decisions with reliable, accurate data at their fingertips.
35+ years
of experience
you can rely on
Over 10 million
cows on the
VAS PULSE Platform
Trusted by over
15,000 farmers
worldwide
FULL-ACCESS TO
INDUSTRY EXPERTS
from large multi-site operations to small

VAS has the platform for you.